Stellen Sie ohne Oracle Client eine Verbindung zur Oracle-Datenbank in C# her
Folge uns auf unserer fanpage, um jedes Mal benachrichtigt zu werden, wenn es neue Artikel gibt.
Facebook
Der Unterlagen wird nach ... geschrieben
Visual Studio 2013, 2015
Oracle 11g, 12c
Zuerst sollen Sie das Verbindungsmechanismus aus einem Programm C# in Database Oracle.kennen
Das Modell 1
In diesem Modell sollen Sie Oracle Client auf dem Computer,der C# läuft, installieren. Das ist eine Teil der Oracle, die auf dem Klient gelegt wird, um die Verbindung mit der Database von HauptOracle zu unterstützen. Wenn die Database Oracle in Ihrem Computer laufend C# gelegt wird, sollen Sie Oracle Client nicht installieren. Denn die Databse Oracle ist selbst ein Oracle Client. Die Kapazität von Oracle Client ist ca. 50MB.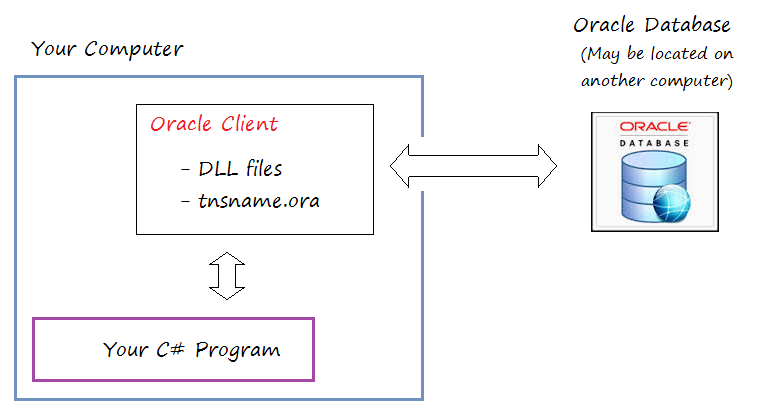 Das Modell 2:
Das Modell 2 genehmigt Ihnen, direkt in Oracle zu verbinden, ohne die Installierung von Oracle Client auf dem C# laufenden Computer . Sie sollen einige Bibliothek DLL von Oracle client und einige Bibliothek ODAC XCopy ins Projekt kopieren.

Und Denn Oracle Client wird nicht benutzt, gibt es keine File tnsname.ora mit der Information der Database Oracle. Deshalb enthaltet Connection String die Parameter der Database wie die Inhalt von der File tnsname.ora.

// Connection String verbindet direkt mit Oracle.
string connString = "Data Source=(DESCRIPTION =(ADDRESS = (PROTOCOL = TCP)(HOST = "
     + host + ")(PORT = " + port + "))(CONNECT_DATA = (SERVER = DEDICATED)(SERVICE_NAME = "
     + sid + ")));Password=" + password + ";User ID=" + user;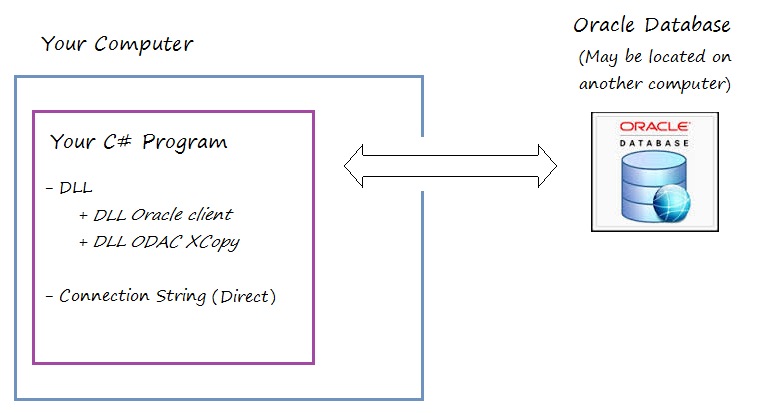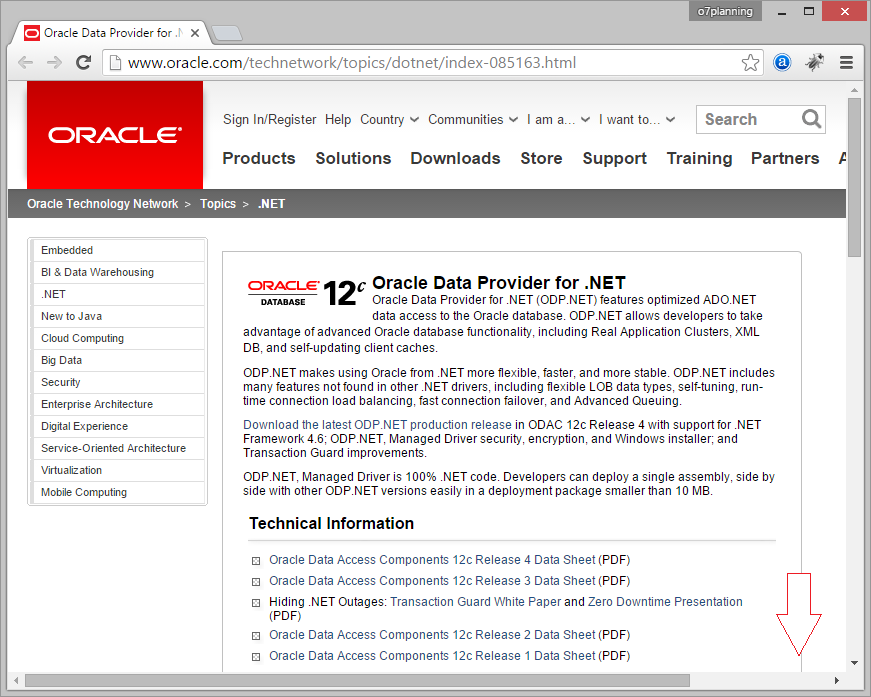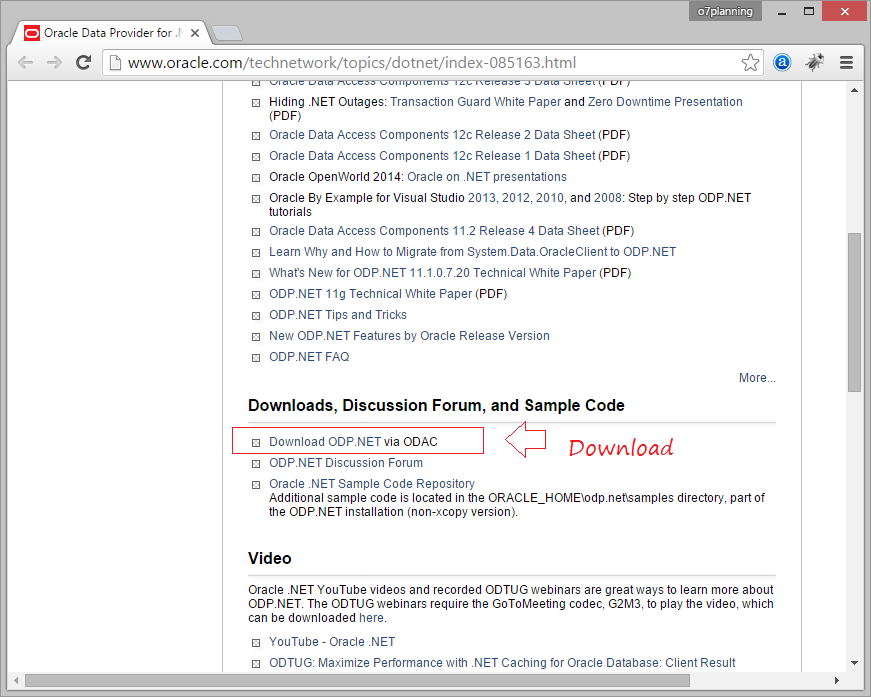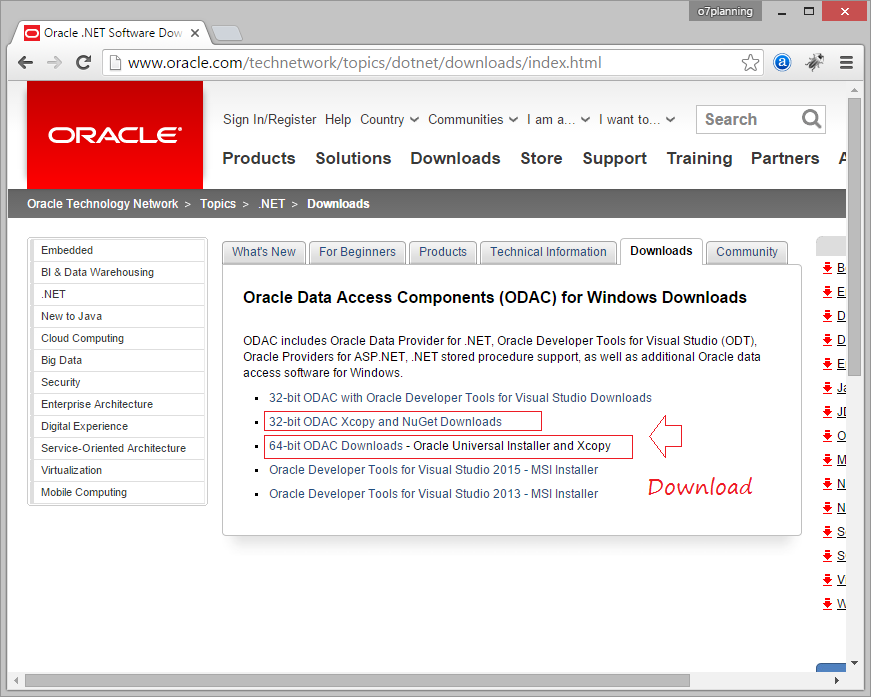 64-bit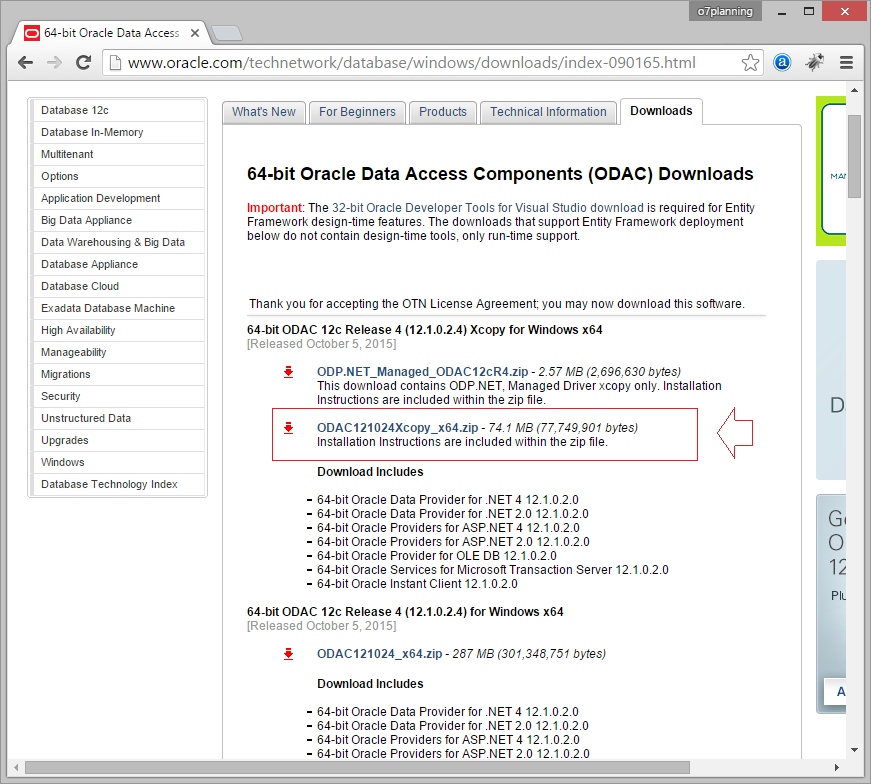 32-bit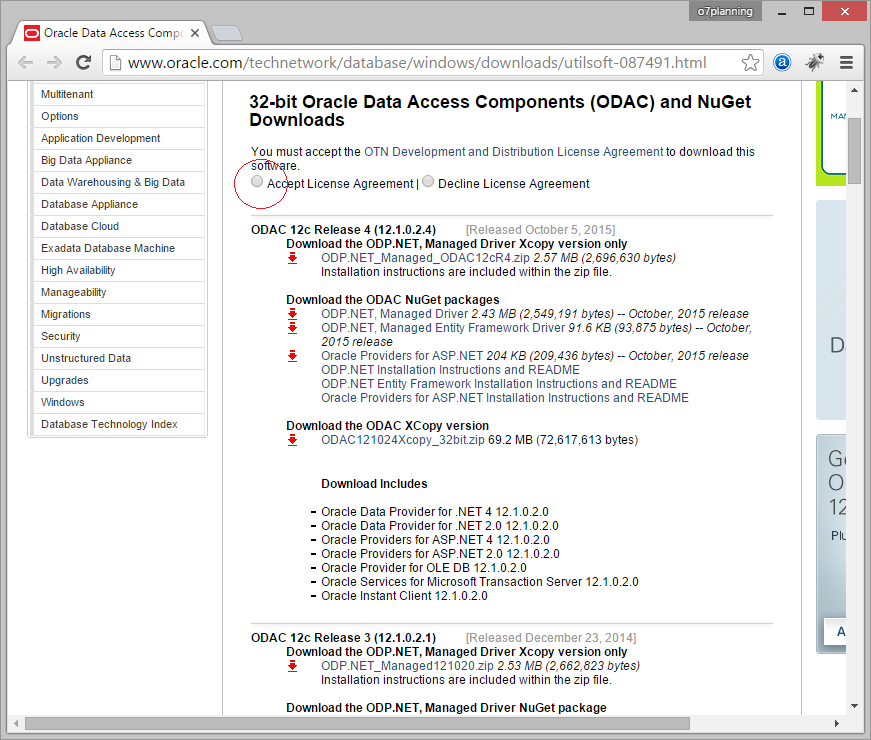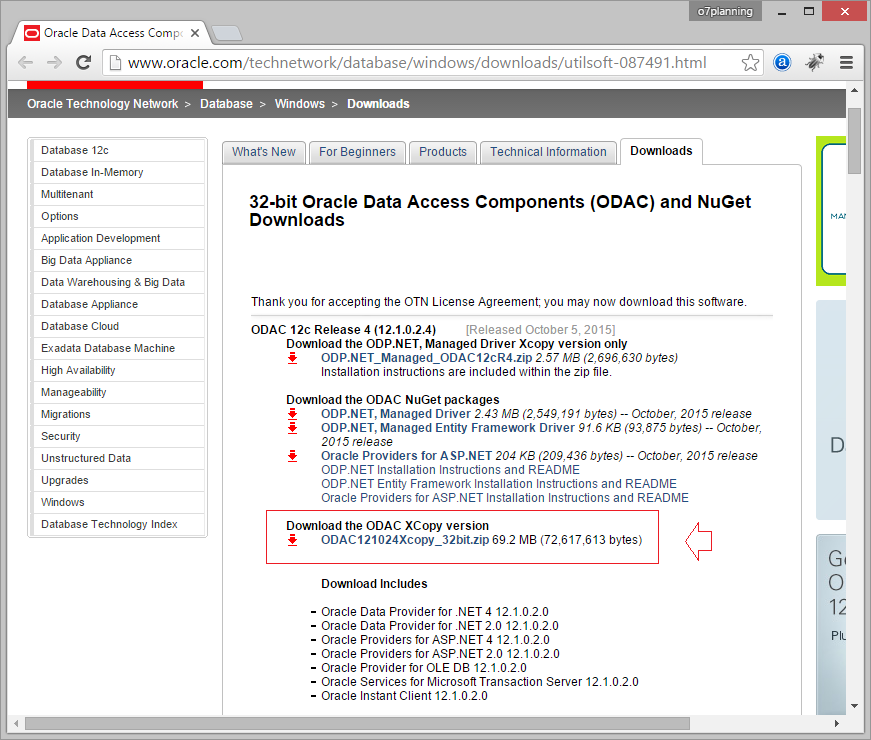 Das Ergebnis vom Herunterladen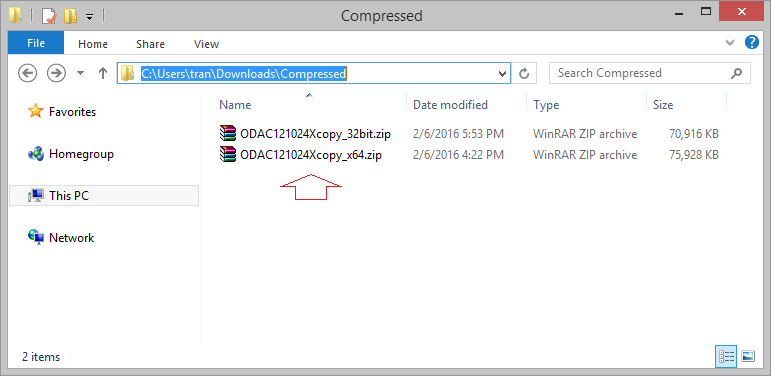 Beachten Sie: Sie können die heruntergeladete Version 32bit benutzen (auch für Ihr 64 bit Betriebssystem). Wenn Sie bei der Verwendung von Version 64 bit C# in Oracle verbinden, manchmal erscheint die folgenden Fehler:


An unhandled exception of type 'System.BadImageFormatException' occurred in mscorlib.dll

Additional information: Could not load file or assembly 'Oracle.DataAccess, Version=4.121.2.0,
Culture=neutral, PublicKeyToken=89b483f429c47342' or one of its dependencies.
An attempt was made to load a program with an incorrect format.

Obwohl das Betriebssystem in meinem Computer 64 bit ist, benutze ich aber das oben heruntergeladete ODAC 32bit
Ich erstelle ein Projekt mit dem Name ConnectOracleWithoutClient: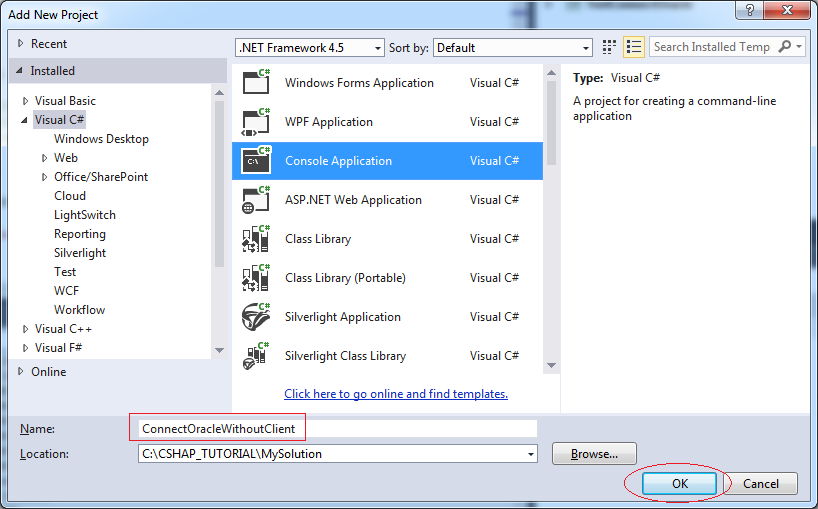 Das Project wird erstellt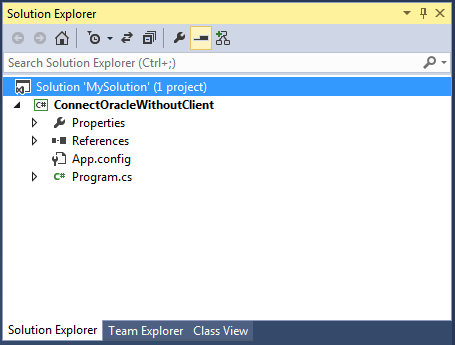 Diskomprimieren Sie die vorher heruntergeladeten Zip File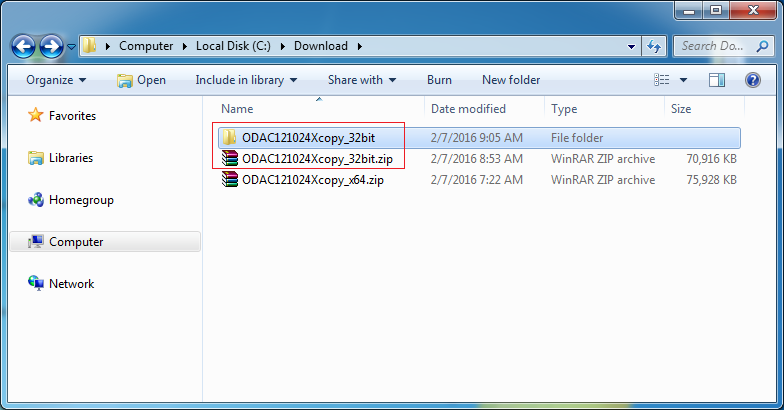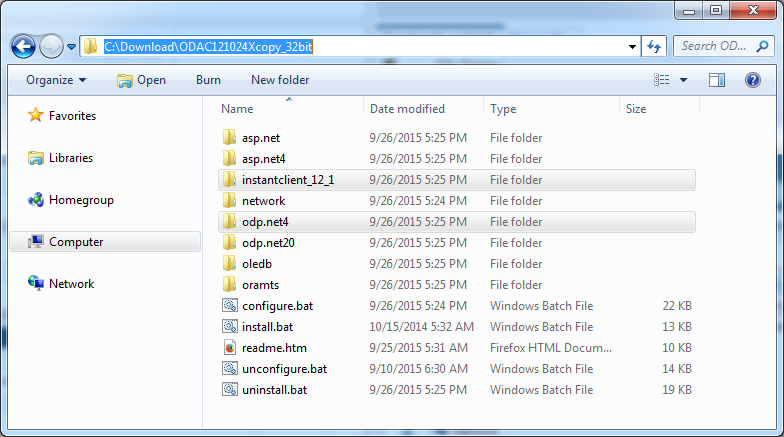 Die folgenden File kopieren
Directory
File Copy
<DIR>/instantclient_12_1
oci.dll
orannzsbb12.dll
oraocci12.dll
oraocci12d.dll
oraociei12.dll
oraons.dll
<DIR>/odp.net4/odp.net/bin/4
Oracle.DataAccess.dll
<DIR>/oramts/bin
oramts.dll
oramts12.dll
oramtsus.dll
<DIR>/odp.net4/bin
OraOps12.dll
Direkt die oben gewähnten File in Ihrem Projekt auf Visual Studio:kopieren und kleben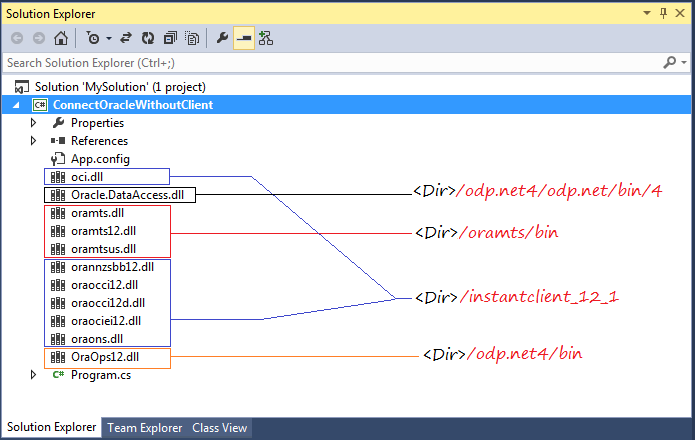 Auf Visual Studio wählen Sie die File DLL und ihre Attribute formen
Copy to Output Directory: Copy if newer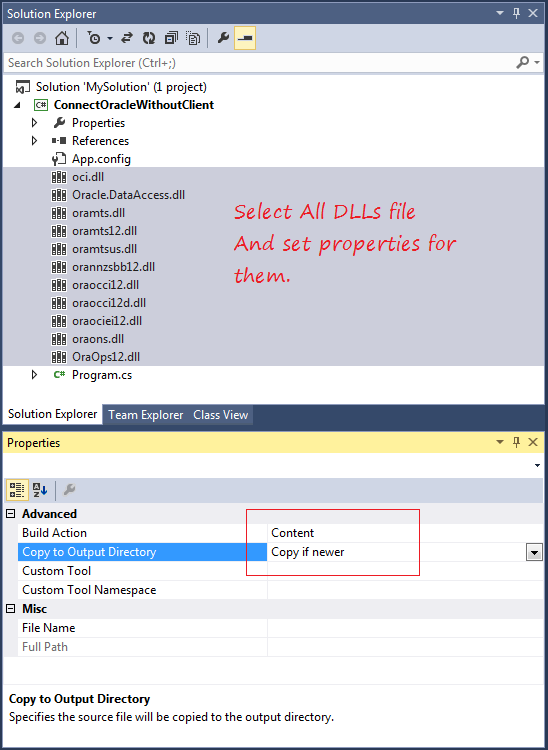 Die Bibliothek anmelden und nach Oracle.DataAccess.dll.zuweisen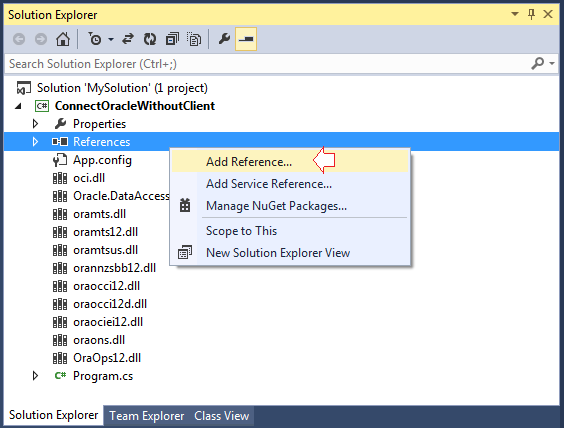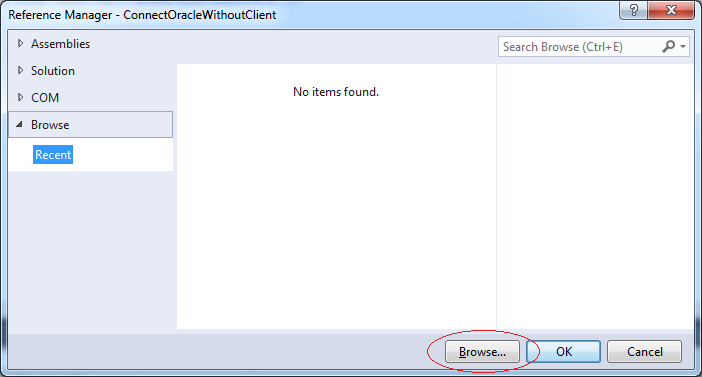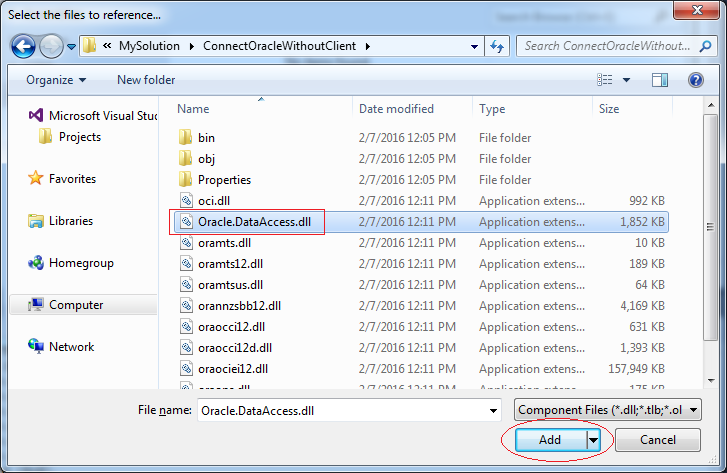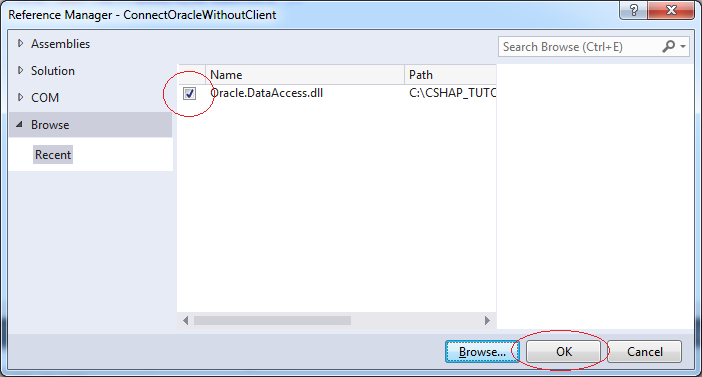 Die Klasse DBOracleUtils hat eine Utility Methode um direkt mit Oracle zur verbinden
DBOracleUtils.cs

using System;
using System.Collections.Generic;
using System.Linq;
using System.Text;
using System.Threading.Tasks;
using Oracle.DataAccess.Client;

namespace Tutorial.SqlConn
{
    class DBOracleUtils
    {

        public static OracleConnection 
                       GetDBConnection(string host, int port, String sid, String user, String password)
        {

            Console.WriteLine("Getting Connection ...");

            // 'Connection String' verbindet direkt mit Oracle.
            string connString = "Data Source=(DESCRIPTION =(ADDRESS = (PROTOCOL = TCP)(HOST = "
                 + host + ")(PORT = " + port + "))(CONNECT_DATA = (SERVER = DEDICATED)(SERVICE_NAME = "
                 + sid + ")));Password=" + password + ";User ID=" + user;


            OracleConnection conn = new OracleConnection();

            conn.ConnectionString = connString;

            return conn;
        }
    
    }
}

Eine Utility Klasse mit den Parameter verbindet Ihre Database Oracle :
DBUtils.cs

using System;
using System.Collections.Generic;
using System.Linq;
using System.Text;
using System.Threading.Tasks;
using Oracle.DataAccess.Client;

namespace Tutorial.SqlConn
{
    class DBUtils
    {
        public static OracleConnection GetDBConnection()
        {
            string host = "192.168.205.1";
            int port = 1521;
            string sid = "db12c";
            string user = "simplehr";
            string password = "12345";

            return DBOracleUtils.GetDBConnection(host, port, sid, user, password);
        }
    }

}

Test Oracle Connection:
Program.cs

using System;
using System.Collections.Generic;
using System.Linq;
using System.Text;
using System.Threading.Tasks;
using Oracle.DataAccess.Client;
using Tutorial.SqlConn;

namespace ConnectOracleWithoutClient
{
    static class Program
    {

        static void Main(string[] args)
        {
            //
            OracleConnection conn = DBUtils.GetDBConnection();

            Console.WriteLine("Get Connection: " + conn);
            try
            {
                conn.Open();

                Console.WriteLine(conn.ConnectionString, "Successful Connection");
            }
            catch (Exception ex)
            {
                Console.WriteLine("## ERROR: " + ex.Message);
                Console.Read();
                return;
            }

            Console.WriteLine("Connection successful!");

            Console.Read();
        }
    }
}

Die Applikation durchführen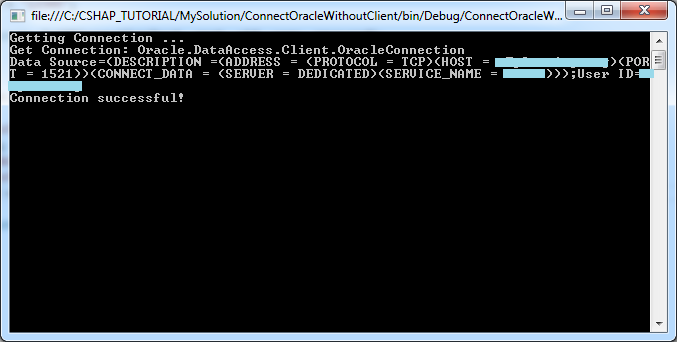 Zunächst können Sie das Handbuch über Oracle mit der Benutzung C# sehen