Die Anleitung zu Java MinguoDate
Folge uns auf unserer fanpage, um jedes Mal benachrichtigt zu werden, wenn es neue Artikel gibt.
Facebook
Die Klasse MinguoDate repräsentiert Daten im Kalendersystem der Republik China (Republic of China - ROC), auch bekannt als Kalender Minguo. Dieser Kalender wird bereits seit 1912, dem Gründungsjahr der Republik China, verwendet. Der 1. Januar 1912 im ISO-Kalendersystem entspricht dem 1. Januar Jahr 1 im Minguo-Kalender. Der Begriff "Minguo" bedeutet einfach "Republik" (traditionelles Chinesisch: 民國; vereinfachtes Chinesisch: 民国).
Minguo folgt der chinesischen Tradition, den Namen der Ära und des Regierungsjahres zu verwenden, wie die chinesischen Dynastien davor. Monate und Tage werden jedoch nach dem Kalender Gregorian (ISO) nummeriert. Dieses Kalendersystem hat nur 2 Epochen, BEFORE_ROC (Before Republic of China) und ROC (Republic of China), die die Zeit vor und nach 1912 darstellen. Tatsächlich endete der chinesische Feudalismus am 12. Februar 1912, als Yaozhi, der letzte Kaiser von China, gezwungen wurde abzudanken.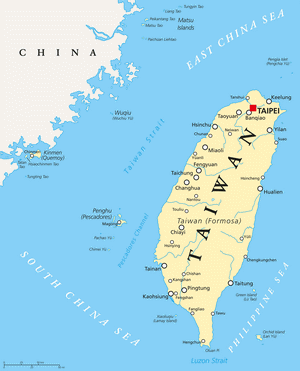 Der ROC-Kalender ist in der Republik China seit 1912 weit verbreitet, auch in frühen offiziellen Dokumenten. Der ROC-Kalender ist der offizielle Kalender, der in Taiwan seit 1945 verwendet wird und auch von den chinesischen und taiwanesischen Gemeinden in Übersee übernommen wird. Chorographien und historische Forschungen, die auf dem chinesischen Festland veröffentlicht wurden und den Zeitraum zwischen 1912 und 1949 abdecken, verwenden ebenfalls den ROC-Kalender.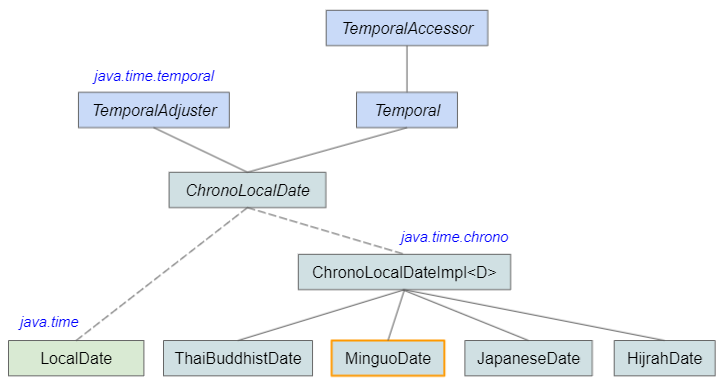 Konvertieren Sie ein ISO-Datum in ein Minguo-Datum und umgekehrt:

MinguoDate_from_ex1.java

LocalDate localDate = LocalDate.of(2000, 2, 15);
// Convert Minguo Date to ISO Date
MinguoDate minguoDate = MinguoDate.from(localDate);

System.out.printf("ISO Date: %s, Minguo Date: %s%n%n", localDate, minguoDate);  

minguoDate = MinguoDate.of(100, 1, 1);
// Convert ISO Date to Minguo Date
localDate = LocalDate.from(minguoDate);
System.out.printf("Minguo Date: %s, ISO Date: %s%n", minguoDate, localDate);

Output:

ISO Date: 2000-02-15, Minguo Date: Minguo ROC 89-02-15

Minguo Date: Minguo ROC 100-01-01, ISO Date: 2011-01-01

Beispiel: Zeigen Sie die Epocheninformationen eines MinguoDate-Objekts an.

MinguoDate_ex2.java

MinguoDate minguoDate = MinguoDate.of(50, 3, 15);
MinguoEra era =    minguoDate.getEra();

System.out.printf("Minguo Date: %s, ISO Date: %s%n", minguoDate, LocalDate.from(minguoDate));
System.out.println(" > Era: " + era.name() +", value: " + era.getValue());


minguoDate = MinguoDate.of(-10, 3, 15);  
 era =    minguoDate.getEra();
System.out.printf("%nMinguo Date: %s, ISO Date: %s%n", minguoDate, LocalDate.from(minguoDate));
System.out.println(" > Era: " + era.name() +", value: " + era.getValue());

Output:

Minguo Date: Minguo ROC 50-03-15, ISO Date: 1961-03-15
 > Era: ROC, value: 1

Minguo Date: Minguo BEFORE_ROC 11-03-15, ISO Date: 1901-03-15
 > Era: BEFORE_ROC, value: 0

Factory methods:

public static MinguoDate now()  

public static MinguoDate now(ZoneId zone)  

public static MinguoDate now(Clock clock)  

public static MinguoDate of(int prolepticYear, int month, int dayOfMonth)

public static MinguoDate from(TemporalAccessor temporal)

Die weiteren Methoden:

public MinguoChronology getChronology()   
public MinguoEra getEra()   

public int lengthOfMonth()
public ValueRange range(TemporalField field)
public long getLong(TemporalField field)  
public MinguoDate with(TemporalField field, long newValue)
public MinguoDate with(TemporalAdjuster adjuster)  
public MinguoDate plus(TemporalAmount amount)  
public MinguoDate minus(TemporalAmount amount)  
public MinguoDate plus(long amountToAdd, TemporalUnit unit)  
public MinguoDate minus(long amountToAdd, TemporalUnit unit)
public final ChronoLocalDateTime<MinguoDate> atTime(LocalTime localTime)  
public long toEpochDay()  
public ChronoPeriod until(ChronoLocalDate endDate)  
public long until(Temporal endExclusive, TemporalUnit unit)

Grundsätzlich ähneln MinguoDate-Methoden LocalDate-Methoden. Weitere Beispiele finden Sie im Artikel über die Klasse LocalDate: